Cretan Flavors
A paradise of unforgettable tastes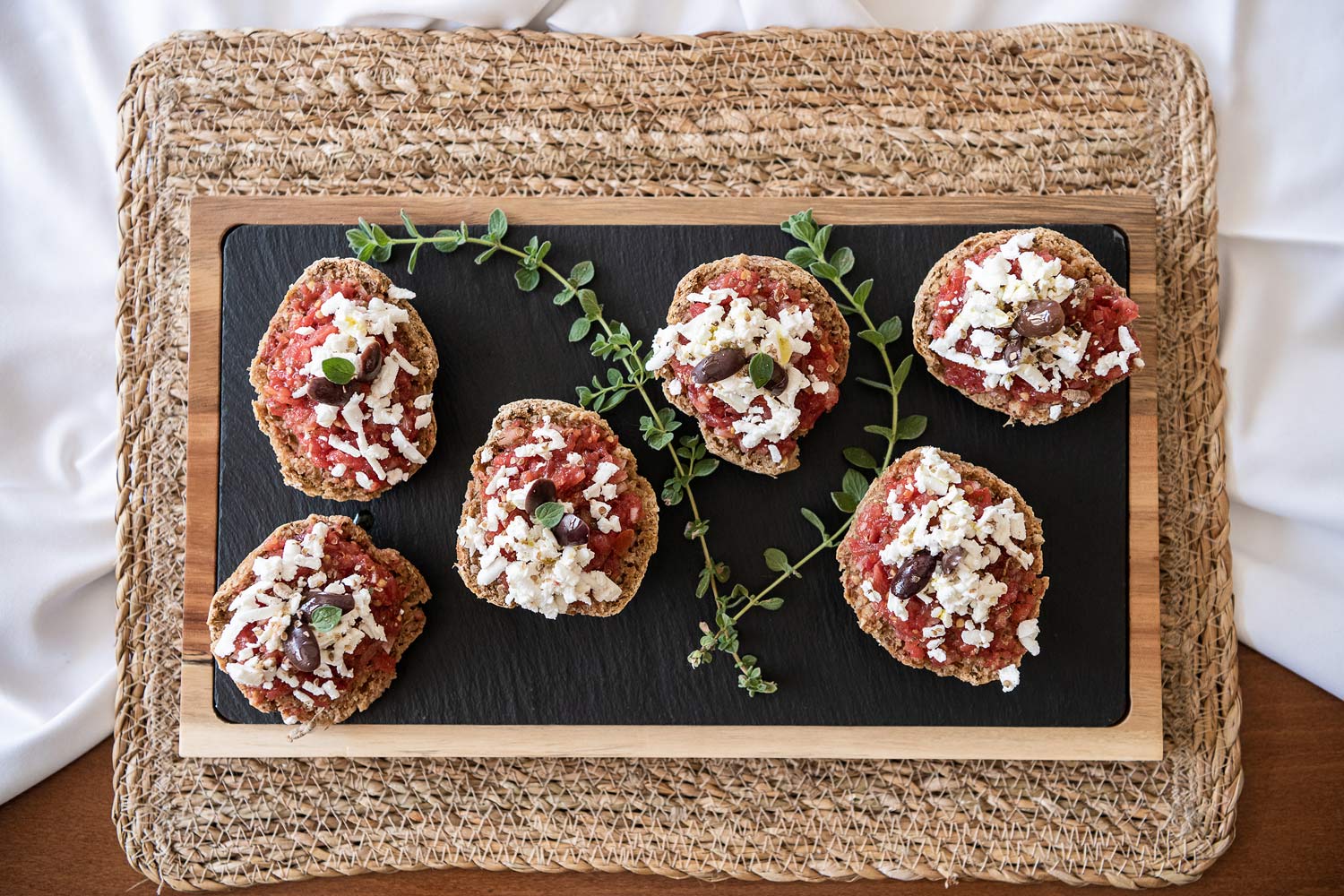 Dakos
Dakos for many is the Cretan artistic take on the famous Greek salad. It is a meze (light meal) that has a base of soaked dried bread or barley rusk, and on top of it chopped tomatoes, mizithra (or crumbled feta) cheese, capers and oregano, and sometimes olives and pepper. The dish is also known as koukouvagia (which means "owl" in Greek), and is similar to the Italian bruschetta. Although dakos is a traditional Cretan recipe, during the last decades it has become very popular all over Greece, and now you can find it in almost every tavern in the country. But, as always, the best place to taste the authentic dakos is in its birthplace.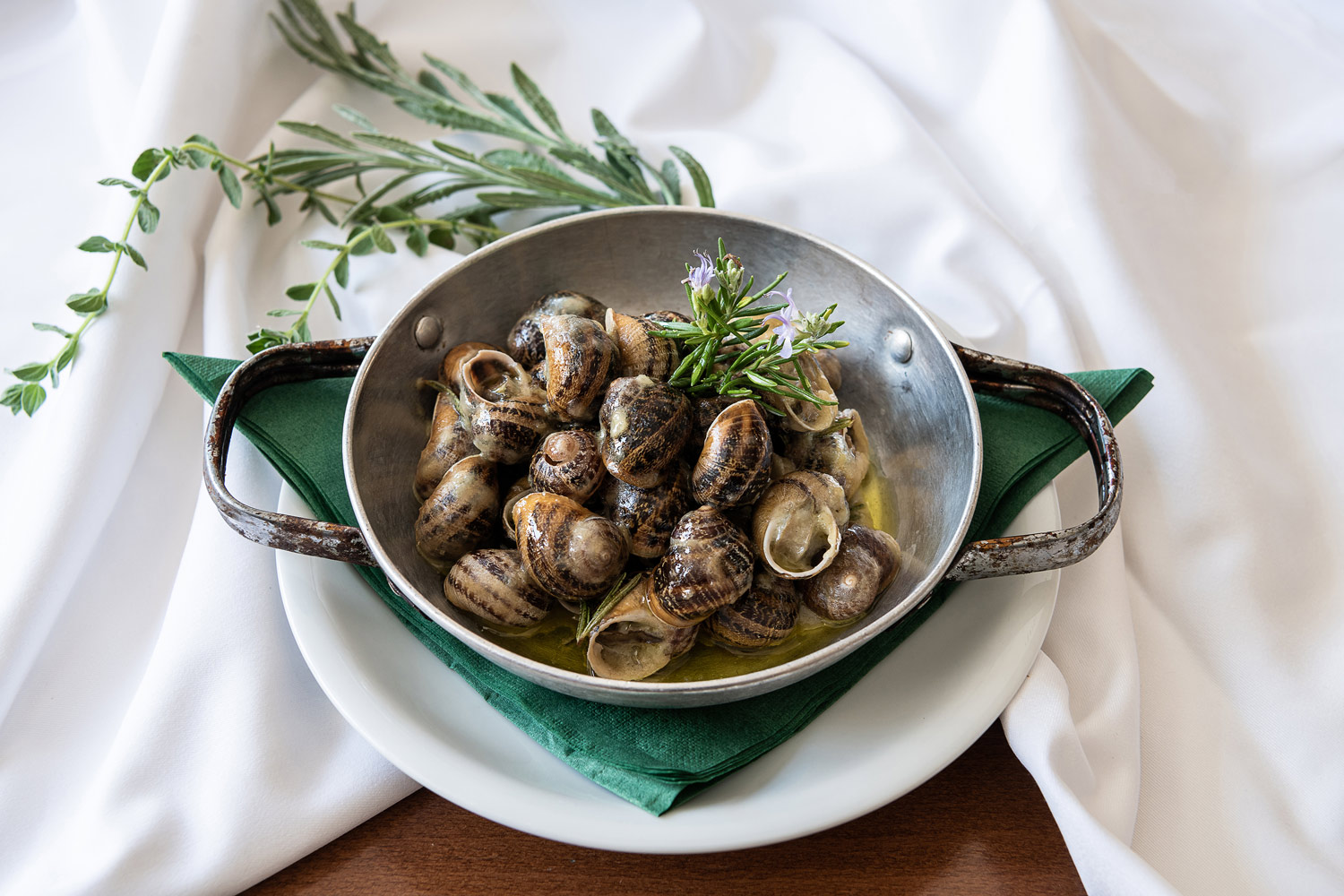 Fried snails (Chochlioi boubouristi)
Snails were consumed in Crete since the era of the Minoan Civilization, thousands of years ago. In the Cretan dialect the snails are called "chochlioi". Traditionally, the snails in Crete were collected by hand after rain, when they came out of their hiding places, in the end of winter and the beginning of spring. To make this dish, first you boil the snails for a few minutes in salted water. Then you fry them with flour in olive oil for 15 minutes. And finally you fry them with vinegar for a few minutes. The word "boubouristi" in the name of the dish, also comes from the Cretan dialect, and the word "abubura", which means "face down", and describes the way the snails are fried. If you like snails, the Cretan fried snails, or "chochlioi boubouristi", will be, if not the best, one of the best snail dishes you have tasted in your life.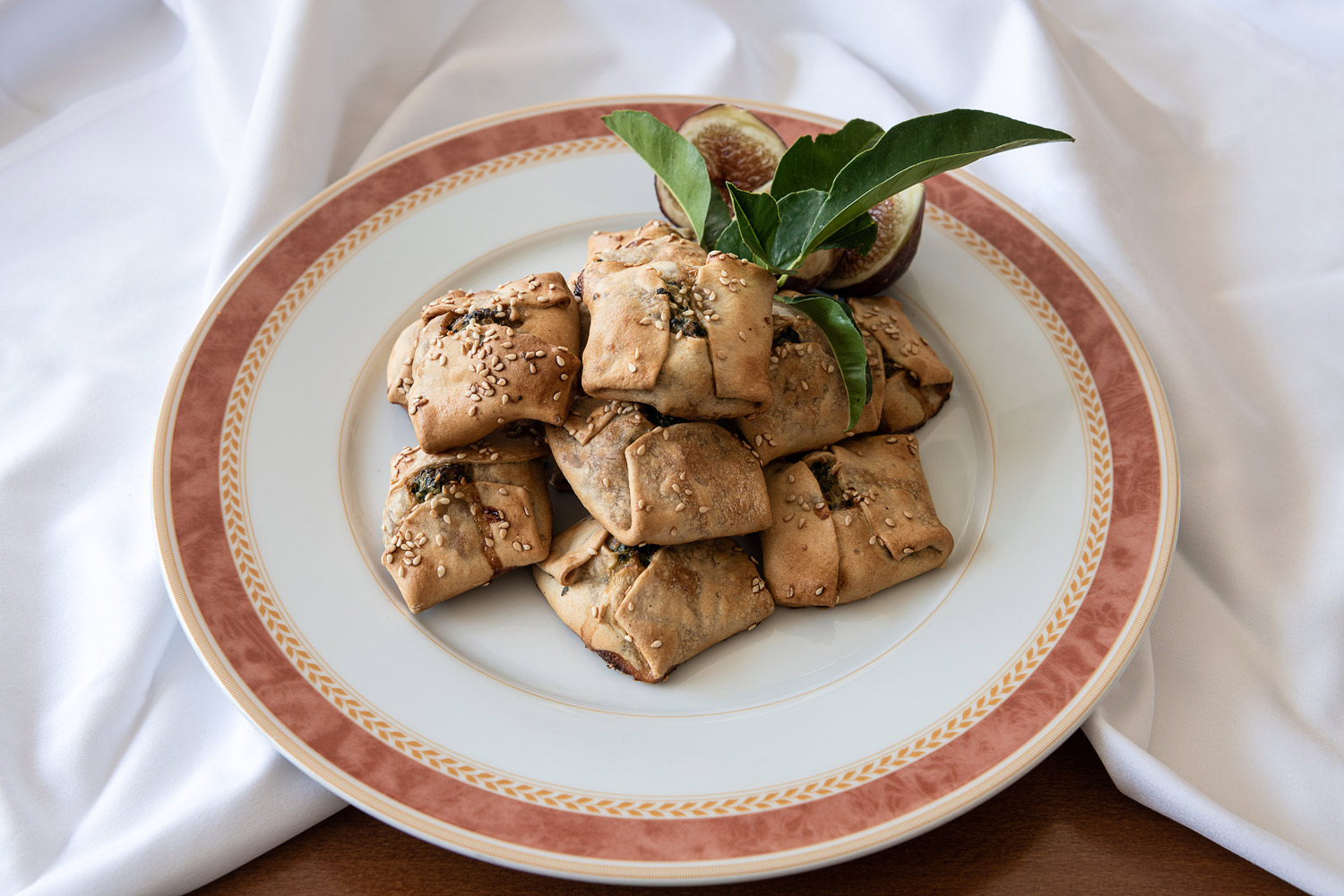 Cretan Cheese Pastries (Kalitsounia)
Kalitsounia are one of the best delicacies you can taste in Crete. They are essentially small sweet cheese pastries, that are made with the soft mizithra cheese (not the salty type). Along with the cheese, most times they also have local herbs, like spinach or mint. Finally, they are drizzled on top with either cinnamon, sugar, or - most commonly - honey. Although you can find kalitsounia all over Crete, they are more popular in the region of Chania. There are many kalitsounia variations, as literally every area in Crete has its own local recipe, so if you like them - and you will - feel free to try them in every new place you discover on the island.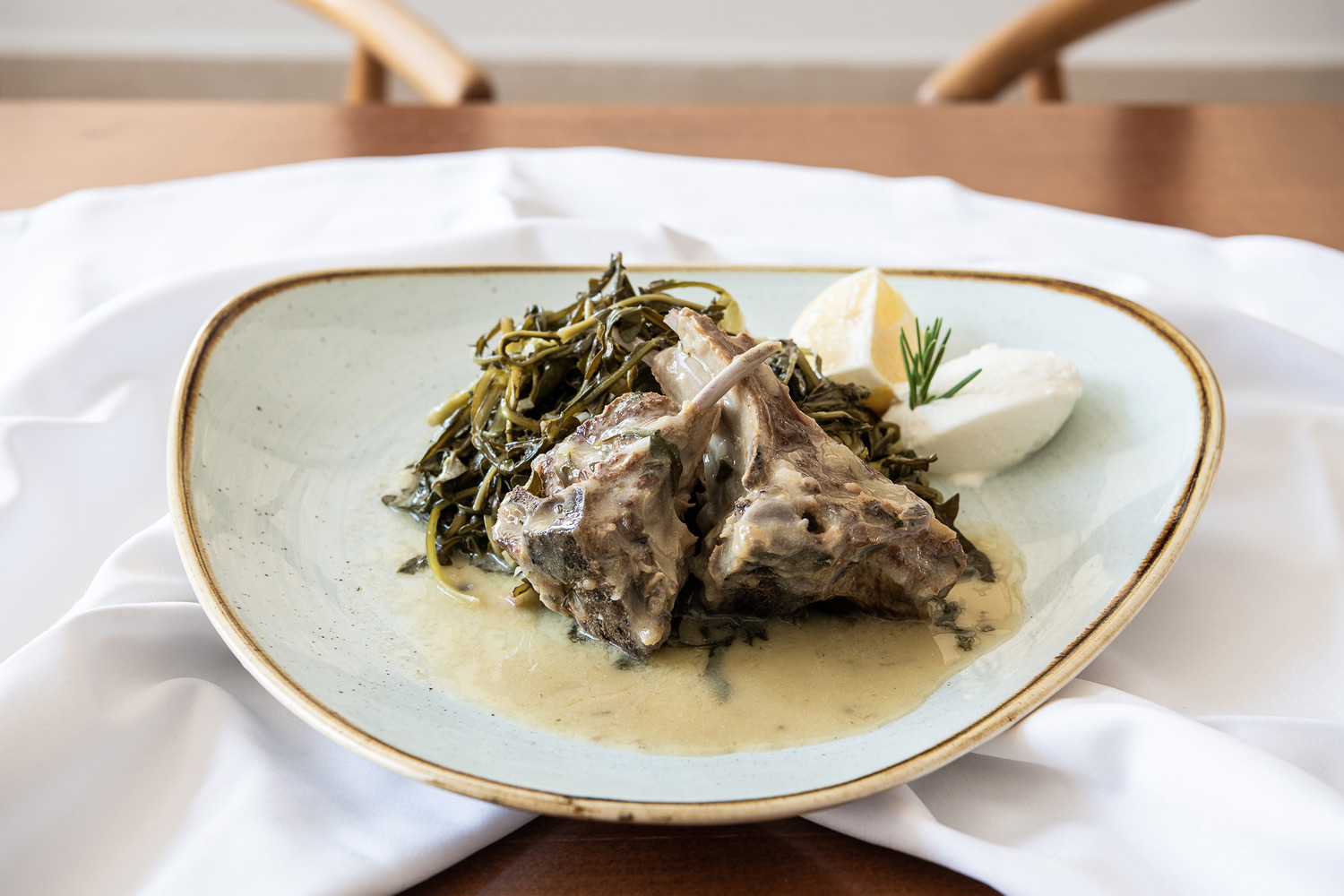 Lamb with stamnagathi
There are many recipes with lamb in Crete. But the most known of them is the lamb with stamnagathi. Stamnagathi is a popular Cretan green radish which is being consumed in the island for centuries, and it is considered a very healthy food. The lamb with stamnagathi is essentially a frikase, with the addition of olive oil, oregano, and the Greek favorite avgolemono (egg and lemon-based) sauce, or simply with lemon. It is one of the most delicious traditional Cretan dishes, which you owe it to yourself to taste when you visit the island.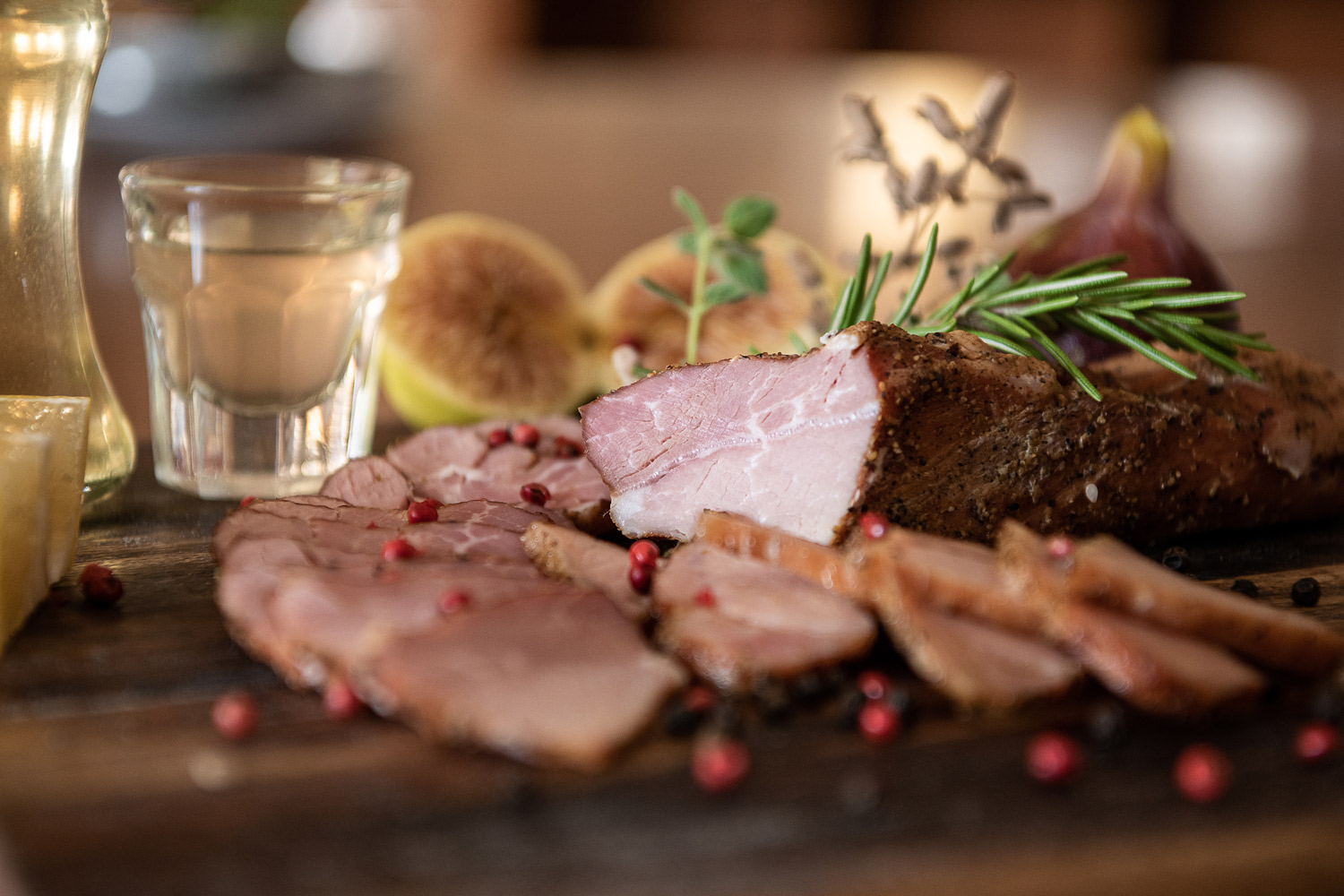 Smoked Pork (Apaki)
Apaki, the traditional smoked pork of Crete is a unique delicacy, with a characteristic, full taste that you will remember for long. In older times, when meat was a luxury in Crete, apaki was the most eclectic food produced after sacrificing one of the few and valued pigs for its meat. The meat used for producing apaki is soft pork fillet. The pork fillets would be soaked for a couple of days in vinegar and wine, and optionally in a mixture of olive oil, salt and pepper. Then it would be time for smoking them, and here lied the secret of the traditional apaki recipe. Each region in Crete would use different kinds of wood to produce the coal needed to smoke the meat, from olive wood, to cypress, lemon or orange wood. On top of the coal, a mix of herbs would slowly burn, in order to give to the smoked pork its full flavor. Among these herbs were thyme, sage, basil, oregano, and others, again based on the local flora. The end result is superbly delicious, and, if you happen to visit a small village in rural Crete, it is warmly recommended to taste the local apaki: chances are you will be pleasantly surprised.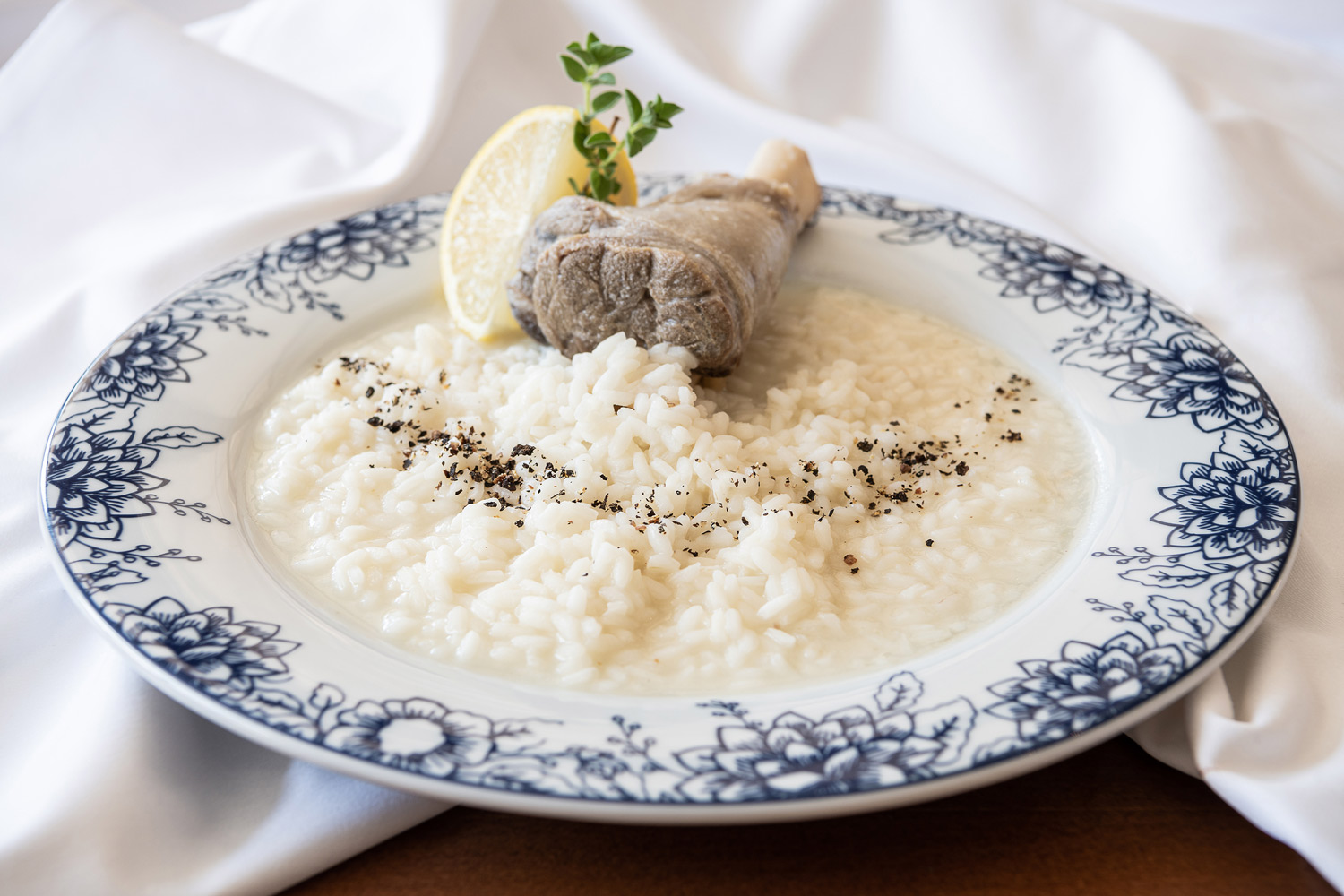 Gamopilafo
Gamopilafo means "wedding risotto" in Greek and is a dish that was traditionally served in weddings, but nowadays you can find it in many Cretan taverns, as well. In Greece, the rice symbolizes the deep roots of the couple and fertility, and it is connected with the Greek Orthodox wedding traditions. To make gamopilafo, first you have to boil goat or rooster meat (or alternatively lamb or chicken) for 4+ hours until it becomes very soft, and then make a risotto with it. But the secret is in the butter used: it is the so-called "stakovoutiro", the butter from the creamy skin on top of boiled fresh goat's milk. Gamopilafo was first introduced many years ago in West Crete, but you can find it all over Crete.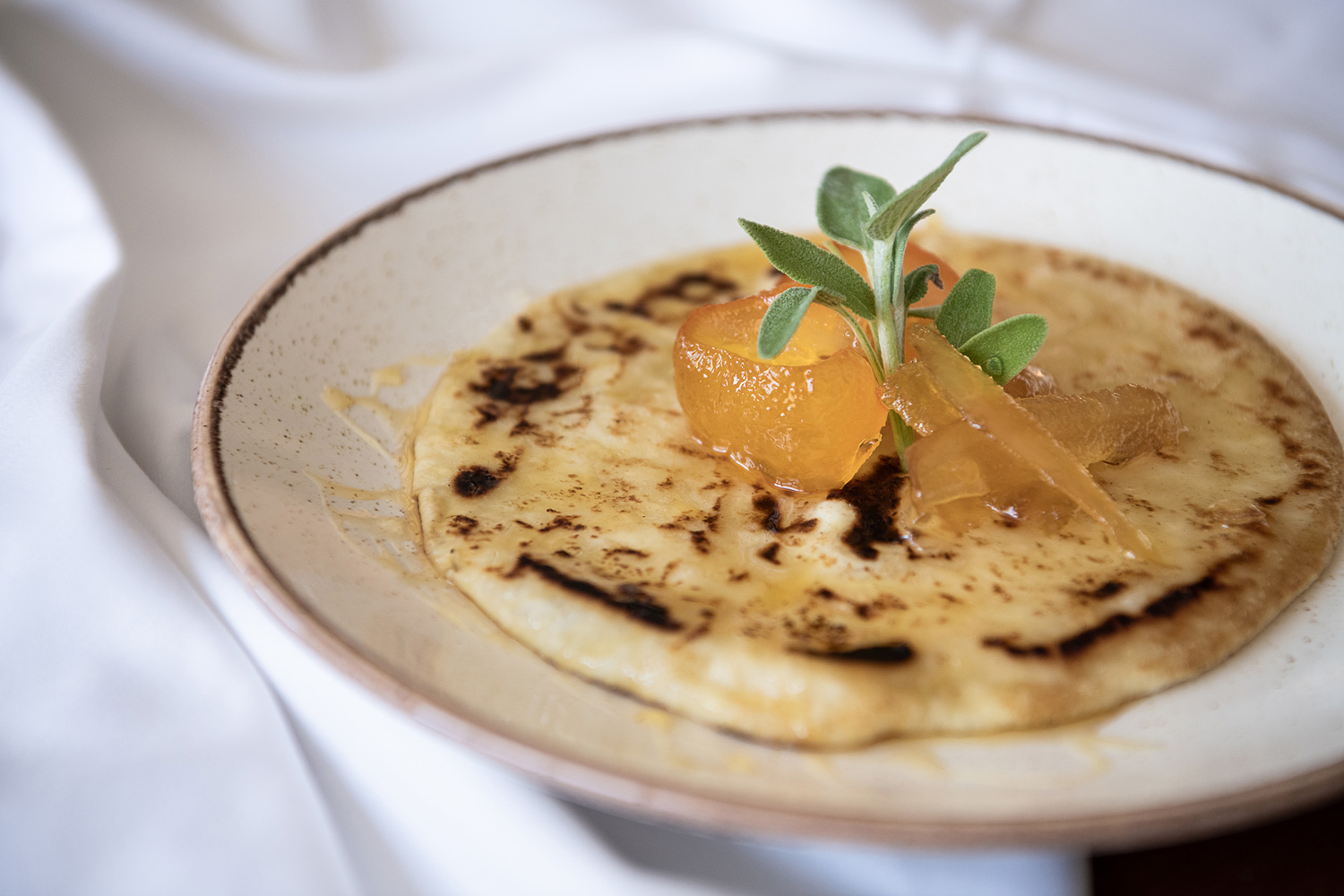 Sfakian pie
Sfakia is a southern district of the region of Chania, known for its rugged terrain and its impressive gorges, like the famous Samaria Gorge, and for the characteristic personality of its people. And the Sfakian pie (or "Sfakiani pita" in Greek) has its own distinct personality, too. It consists of two layers of thin fried crust, with mizithra cheese in between (mizithra is the Greek equivalent of the Italian ricotta cheese). But what makes this pie really unique, is that it is drizzled with delicious local honey, making it a sweet pie. In fact, the Sfakian pie is a very interesting mix of the slightly bitter taste of the mizithra cheese and the sweet taste of honey. As Sfakia is generally a rural district, with many small villages, we recommend you try the Sfakian pie made by a traditional local cook in one of these villages, to literally taste the authentic heart of Sfakia.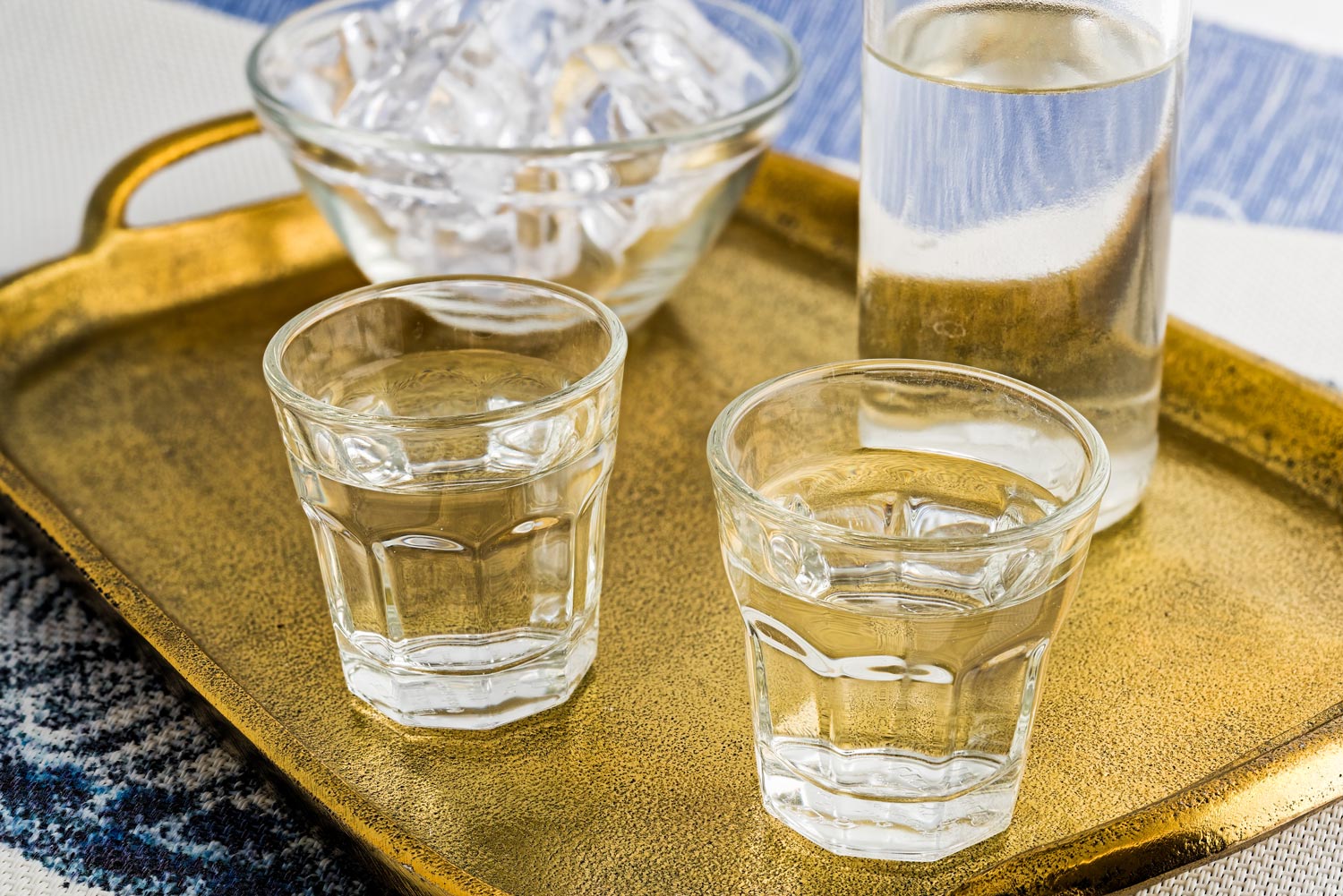 Raki / Tsikoudia
Raki, or Tsikoudia, as it is most commonly called in eastern Crete, is the most known alcoholic drink in Crete, and is popular all over Greece. It is produced by the distillation of pomace, the remainders of grapes used for making wine. Before distillation, the pomace ferments for about six weeks in a tightly-sealed barrel. The alcoholic volume of raki is high, generally 40% - 70%. It is similar to the tsipouro spirit, which is produced in mainland Greece, and to the Italian grappa. Its production is common in villages all over Crete, in late October and early November. Raki many times is served cold, especially if it is offered as an after-dinner digestif, something very common in Cretan taverns.